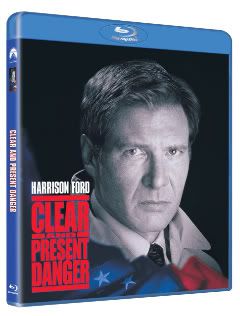 Paramount Home Entertainment México anuncia el lanzamiento en DVD y Blu-ray de Peligro Inminente (Clear and Present Danger), dirigida por Phillip Noyce y protagonizada por Harrison Ford, Willem Dafoe, Anne Archer y Harris Yulin. Basada en la novela de Tom Clancy
Año: 1994
Duración: 135 min.
Harrison Ford regresa como el intrépido agente de la CIA Jack Ryan, en este aclamado éxito de los productores de Juego dePatriotas. Cuando su mentor, el Almirante James Greer (James EarlJones) se enferma gravemente, Ryan es asignado como Director deInteligencia, Delegado de la CIA. Su primer trabajo: investigar elasesinato de un amigo del Presidente, un prominente hombre de negociosestadounidense con lazos secretos con los cárteles colombianos. Sin queRyan lo sepa, la CIA ya despachó a un mortal operador (Willem Dafoe)para dirigir una fuerza paramilitar en contra de la droga colombiana.Atrapado entre el
fuego, Ryan toma el asunto entre sus manos, poniendoen riesgo su carrera y su vida por la única causa enla que sigue creyendo: la verdad.
Blu-ray disponible a partir del 13 de noviembre de 2009. Incluye audio Inglés Dolby TrueHD 5.1 y Español Dolby Digital 5.1. Material adicional: Cast and Crew, Entrevistas, Trailer.